The church St Jean Baptiste de l'Uhabia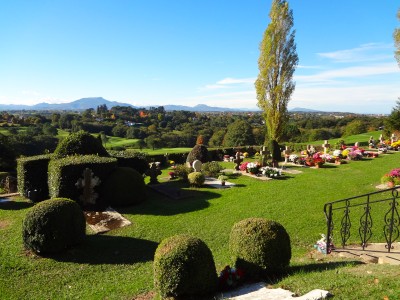 The original church in Arcangues was built in 1516 by Augier d'Arcangues.
The church of Arcangues possesses one of the finest wooden galeries in the Basque country, dating from the beginning of the XVIII century.
The cemetary, which surrounds the church, is typical to the Basque country, with the tombs grouped around the church and the ancient round Basque stone crosses. Near the chapel is the monument, erected by Queen Victoria, to the British soldiers who died during the Battle of the Nive.
During his stays in Biarritz at the beginning of the century, King Edward the VII, never failed to visit the monument.
Pierre d'Arcangues, Luis Mariano (under his family name of Mariano Gonzales) and the Ukranian sculptor Yvan Chouklin are also buried in the cemetary at Arcangues.